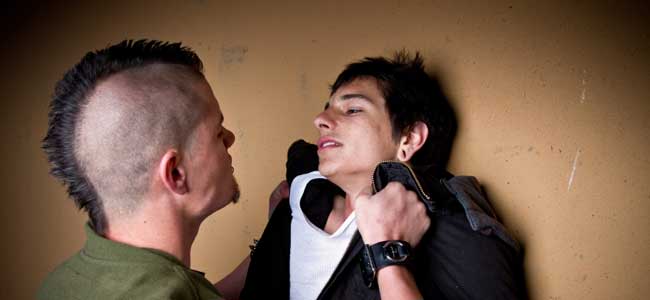 School is a difficult time for both teenagers and their parents. For adults, it is the time when they worry about how their child (or children) succeeds in studying, socializing, and what habits and manners a child adopts from peers. For children and teenagers, school is difficult not just because of having to study and to try to receive good grades, but also because there is a specific hierarchic environment they have to fit into. Those who cannot do so often become victims of bullying and being harassed by their more "successful" peers (in terms of hierarchy). Bullying has always been a serious problem for schools in the U.S., as well as in the rest of the world.
Although some people tend to see bullying as any conflict or act of violence occurring between students, it is not so. "For instance, if two students involved in conflict are of approximately the same physical or psychological strength, the quarrel between them is not considered bullying. Bullying has two main components: repeated physical, verbal, or psychological harmful acts, and an imbalance of power. Bullying includes assault, intimidation, spreading rumors, demands for money, destruction or theft of property, name-calling, and so on. In the United States, bullying can also include sexual harassment and ostracism based on sexual orientation" (Popcenter.org).
According to the statistics, up to 28% of U.S. students in the 6-12 grades have experienced bullying, or are feeling bullied, which makes it obvious that bullying occurs most often in middle school. Surveys disclose that name calling as the most prevalent type of bullying; next goes teasing, rumor-spreading, physical incidents, purposeful isolation, threats, belongings being stolen, and sexual harassment. Researchers believe that considering the scale of the problem, it is not enough to just promote a message like "Bullying is not tolerated"; instead, there should be effective anti-bullying programs implemented. These problems should focus on bystanders in particular, because rather often they do not do anything to prevent or stop bullying when they witness it (NoBullying.com).
Unlike some teachers or officials would want to believe, bullying is not something that happens and then vanishes without a trace—it has a number of negative consequences, usually for victims. Among the most common ones, one should mention depression and anxiety; poor nutrition and/or appetite; breaks in sleeping patterns—for example, insomnia or extreme sleepiness; excessive feelings of sadness and/or loneliness, loss of interest in once-enjoyed activities and so on. What is even more worrying, these problems not only develop in early adolescence, but tend to last throughout the entire life of a person. Health complaints, poor grades, low levels of participation in school activities, and skipping classes are also among the reported negative effects of bullying victims. In addition, sometimes desperate victims of bullying are known to cause gunfire in schools (Stopbullying.gov).
Bullying is one of the most significant problems connected to the sphere of education. Bullying usually implies repeated offensive actions—verbal, psychological, or physical—against a victim, who is outnumbered, weaker, or less resilient. Up to 28% of school students in America have at least once been bullied. Such offensive behavior causes a number of long-lasting problems in victims, including depression, health problems, difficulties in communication, and so on. Therefore, immediate and effective measures against bullying are required.
References
"Bullying in Schools." Center for Problem-Oriented Policing. N.p., n.d. Web. 05 May 2015.
"Revealed: Shocking Bullying Statistics 2014!" NoBullying.com. N.p., 09 Feb. 2014. Web. 05 May 2015.
"Effects of Bullying." Stopbullying.gov. N.p., n.d. Web. 05 May 2015.
Did you like this guide / sample?
Sign up and we'll send you ebook of 1254 samples like this for free!
80+ essay types
1000+ essay samples
Pro writing tips
Related Writing Guides
Writing an Expository Essay
There are three main types of expository essays: scholarly writing used mainly for academic purposes, which describes or examines a process in a comprehensive way; analyzing a concept, which describes and explores a written work or an event; also, exposi...
A child undergoes various situations in is life before evolving as an adult. Confrontations surface while playing with mates. Teasing may also be associated. But this is not the matter of concern.

Teasing, fighting, confrontations are all part and parcel of growing years. The situation gets tedious when it takes an ugly turn. Like tormenting, abusing verbally or intentionally trying to threaten the younger or the weaker child. It is called as bullying if repeated over and again with an intention to hurt. It can be verbal, physical or psychological in nature. It can range from calling names to spreading rumours or even extorting money or other treasured possessions.

Bullying behaviour is seen all over the world and almost in all sections of society. It might start at an age as early as preschool and might intensify in the transitional teenager years. There can be various reasons behind this kind of aggressive behaviour. Often the victim is shy and introvert and weak in built as compared to bully. On the other hand, bullying is a behaviour which does not necessarily demand a great built.

A bully tries to attract the attention of others in a negative manner. It can be correlated with attention deficit hyperactivity disorder. Similarly children coming from aggressive or disturbed family background showcase the bullying behaviour. Sometimes bullies just gives around what they have been through as retaliation. The affected child is most of the times submissive and docile in nature.

It is extremely hard to identify if the child is facing bullying at school or community. Generally the affected children don't talk with their parents about the incidences. They are either too scared or feel embarrassed to admit such behaviour happening to them. But parents might notice a quite withdrawal of the children from daily situations. The kid may repeatedly complain of false aches and avoid going school.

Frequent crying or getting upset often over trivial matters is also sign of bullying. Any kind of unexplained bruises or abnormal behaviour of the children must be checked and investigated thoroughly.

On identifying the problem the foremost thing is to build confidence in the child. It is important to make him understand that he is listened to and his feelings are respected. Pay attention to each and every detail the child narrates.

Sometimes it is hard to identify the gravity of the situation and any loose thread may lead to serious consequences. School authorities, or teachers, or counsellors at school may be approached regarding the matter. If necessary, parents of the bully can also be approached but it is always advisable to do so in front of counsellors only.

Bullying is a serious matter and should be strongly dealt with. Even if the child has not yet faced any such situation it is important to explain him such prevalent behaviours in the society and ways to tackle it. If left unattended, this childhood problem can have serious effects on the personality of the child throughout his life. Recent shootings at various schools in US are thought to be an expression of physical bullying only.

This is enough to explain the gravity of the situation and early remedial measures should be taken.
Advertisements: